CODY Express
Anywhere RMS, silent dispatch, instant messaging, and one-stop search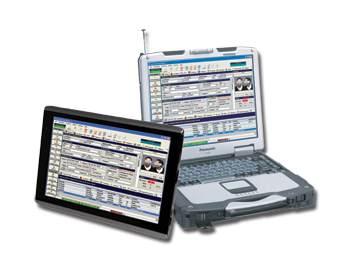 Take the full power of your CODY RMS and CAD system anywhere you are -- in your mobile unit, on your tablet, at a remote sub-station, on a boat -- literally anywhere you have a secure internet connection.
CODY Express is a web-deployed integrated app that combines full RMS access, bi-directional real-time CAD interaction, an audited instant messenger, mobile field reporting and one-stop multi-database searching in one mobile-optimized workspace.
Designed specifically for use over wireless networks (3G, 4G, RF, Wifi, etc.), CODY Express truly is the "anywhere" in the CODY Anywhere Public Safety System.
Key Benefits:
True Integration
CODY Express is an extension of your CODY system, designed for use anywhere you have a secure internet connection. It is not just integrated, it is part of the same system. When you use the CODY Express app, you are interacting live with the CODY Core database, just like you were using other CODY modules.
Access your RMS anywhere…
Enter new records, search for existing records, edit records, delete records, enter new incident reports, citations, process a booking, log property… These are all things you can do with an RMS – and also with CODY Express. That's because CODY Express is a full RMS interface, just like CODY Desktop RMS, except optimized specifically for web-deployment anywhere you need it.
Keep working even when there is no network signal
When you are working 'anywhere', the last thing you need is to lose your work when the wireless coverage fails. With CODY Express, you never have to worry. When CODY Express senses that you have lost network coverage, it switches to disconnected mode and allows you to keep working, automatically synching all changes to the CODY Core when signal is restored.
Take your RMS to the Cloud
CODY Express serves perfectly as a true cloud-based RMS for your agency. Whether your cloud is a private-cloud hosted by you or your county, or a public cloud securely hosted by a leading cloud provider such as Amazon GovCloud, Microsoft Azure, etc., CODY Express blends the power of an Enterprise-class RMS with the simplicity and speed of a web-based cloud-app.
Interact Silently in real-time with CAD
CAD and CODY Express are two elements of one integrated network that allows critical information to flow in both directions. For instance, calls for service can be initiated from either module and send an instant notification to the other. CODY Express will automatically notify CAD (and other CODY Express units) of any event or status change for the mobile unit and both modules can clear the unit from the call. Authorized CODY Express users can even view system-wide call and unit statuses at a glance in one unified screen. CODY Express provides a full mobile dispatch experience.
Communicate in real-time with all other system users
Along with the Silent Dispatch functionality, CODY Express also features a full instant messenger client that allows both broadcast alerts from the agency out to all users, as well as audited user-to-user messaging.
Search all your records, along with other databases (NCIC, etc.) with one search
CODY Express provides an integrated one-stop search engine that allows you to search your records, along with hits from other data sources, including state and federal sources (NCIC, etc.).