Support & Maintenance Package
First name basis, personal support... making old school new again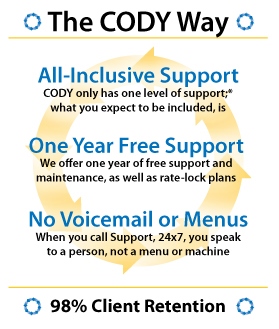 USA Today described CODY Support Services as "making old school new again." With our commitment to always talking with our customers instead of making them wade through digital menus or voicemail systems, we continue to try and live up to the description!
We pride ourselves on being on a first name basis with each of our nearly 500 agency partners, and continuing to provide 24x7 emergency support to every client, not just for a 'platinum' price.
Our annual support and maintenance package includes help desk and 24x7 mission critical support, a variety of professional services, as well as maintenance releases, patches, and system-wide enhancement updates, all delivered on-demand from the cloud.
Support Highlights:
A real, live person... ALL the time (no menus, no voicemail)
The most frustrating aspect of dealing with most 'support' lines is that it is almost impossible to talk to a person. Instead, you are forced through digital menus and/or leave a voicemail that goes to no one. Not with CODY. At no time, for any reason, will you be forced to navigate convoluted menu-systems or voicemail. When you call support, you ALWAYS talk to a person who is skilled at routing, diagnosing, and resolving their issue.
All-inclusive Support
CODY only has one level of support…our best. CODY provides 24x7 mission critical support for ALL our clients, as well as an extended hours helpdesk.
Secure On-line Support Portal with eLearning Videos
CODY maintains a 24x7 dedicated online Customer Resource Center, called the CODY "CRC". This secure website allows users to view a whole library of quick-tip eLearning videos, submit feature requests and support tickets, view/download manuals, and more.
On-demand, Cloud-based Automatic System Updates
Update your CODY system on your schedule, with the CODY Updater. All system updates are included under CODY's support package, and are available instantly when they are published by CODY, via the cloud.
Web-based Remote Guided Support
Along with immediate response over the phone, CODY offers remote guided support over the internet, via our TeamViewer web-support option. Instead of simply following our support rep's instructions, you can have our rep connect directly to you and guide you through your question in real-time.