The CODY "Anywhere" Solution
One unified, flexible public safety software system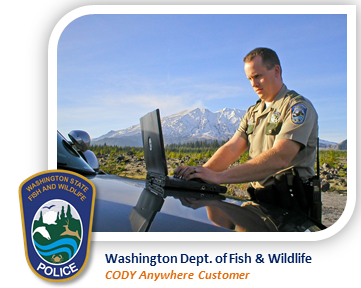 The CODY solution is a comprehensive public safety data management solution that allows an agency to reliably cross-reference, link, dispatch, analyze, and provide flexible reporting of data captured from a variety of sources, locations, and jurisdictions.
From Command Staff to officers on patrol, this integrated modular solution provides discreet access points for all levels of use at the desktop or in the field, with all the security and system audit features you need to keep your data under your control.
Designed to serve you...anywhere:
User-friendly, User-enhanced.
The CODY solution was designed with usability as its key focus. In fact, most major enhancements and feature upgrades come from suggestions made by our trusted users!
One System. One Database. One Consistent User Interface.
CODY believes in the power of one. Its flexible, modular system shares one rugged and relational database and presents this information in one, common user interface. Once you know one CODY screen, you know them all. This means less time training and more time getting things accomplished.
Seamless, Modular Integration.
Seamless, flexible interaction between modules of the system to keep you moving forward.
Streamline Paperless Reporting with No Redundant Data Entry.
Enhance your departments overall operations by decreasing your reporting time while increasing your accuracy and reliability. Data is entered once and is instantly available throughout the entire, integrated system.
RMS Access ANYWHERE.
With discreet access points based on user need, the CODY Anywhere solution provides permission-controlled access your agency's RMS anywhere.
Mission-focused Configurability.
No two agencies are alike. No two users are alike. The CODY system understands these differences in agency size and user missions and provides vast configurability options for your agency and your users.
A System to Grow with You.
The CODY system is inherently scalable. This means the system can fit your needs NOW and evolve and grow with you into the future.