Sarasota County (FL) Sheriff's Office
One-stop Search Access to Multiple Internal Databases: RMS/JMS, Intergraph CAD and more
Since Sheriff Tom Knight assumed office in 2009, his Sarasota County Sheriff's Office (SCSO) executive team and force of 500 sworn deputies have driven down reported Part 1 UCR crimes by almost fifty percent, helping decrease the rate of serious crime in the county by more than double the Florida statewide average over the last four reported years.
This phenomenal success, according to Chief Deputy Colonel Kurt A. Hoffman, is in large part the direct result of the Sheriff's commitment to intelligence gathering and intelligence-led policing. "Our Intelligence to Action or I2A initiative has put more actionable information in the hands of crime analysts, detectives and patrol deputies." Through its cross-system/agency, real-time data translation and sharing power, the COBRA.net software platform from CODY Systems has played a strategic role in the continued success of this initiative and is staged to set a strong foundation for SCSO to become the epicenter of data-sharing in the state of Florida and beyond.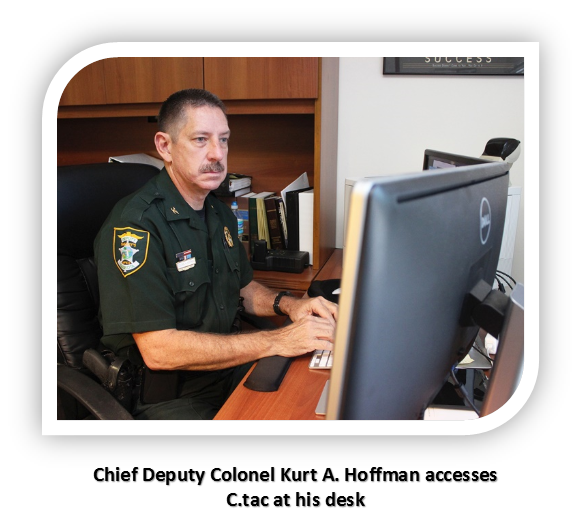 Respected nation-wide for its ability to create a one-stop search across disparate RMS, JMS, CAD, intelligence and other data sources for county/region/state-wide information sharing environments (ISEs) and fusion / real-time crime centers (e.g. powering Missouri's Statewide Data Exchange, MoDEx), the SCSO has used COBRA.net's data aggregation technology to create a one-stop search across the SCSO's various internal/external data sources (RMS, JMS, county CAD, Animal Services, etc.). Using COBRA.net's web-based search app, C.tac, search results from this single search are presented to the user in one clear, consistent and 'digestible' view, without making any changes to the underlying databases/systems or to the agency's workflow. This results in detectives and patrol deputies being able to quickly search a wide range of data sources while in the field. Plus, they get results in seconds rather than days, helping them work faster and smarter.
"We used to waste so much time logging in and searching each of these systems independently. Now, with COBRA.net and C.tac, we have access to all the data in these various systems through a single login and with one, simple search, at the desk or in the field," said Colonel Hoffman. "In addition to the time savings, we also didn't have the administrative upheaval of having to change out or replace any of our internal systems or adapt our workflows. COBRA.net is able to leverage the data from the systems we were already using, search them as one virtual 'dataset' and present unified results in real-time, all without changing the source data or having any impact on the operation of the systems. This kind of quick search access to timely data will not only drastically shorten our investigative cycles, but it will also turn our patrol deputies into crime analysts out in the field, so they can hit the ground running and solve crimes in real-time."
This, in fact, has been the goal from the inception of the I2A initiative, but the SCSO had identified several key challenges right off that bat that they feared would stall the project, prior to discovering COBRA.net.
Identified Need: Real-time, Cross-System Data Accessibility Anywhere
For SCSO - like other local and county law enforcement agencies - the primary source of information for investigating and solving crimes is its own RMS known as WingS - a homegrown system built in the 1980s. SCSO users rely on information stored in WingS which includes possible addresses, aliases or known associates that might help patrol deputies in the field locate a suspect more quickly.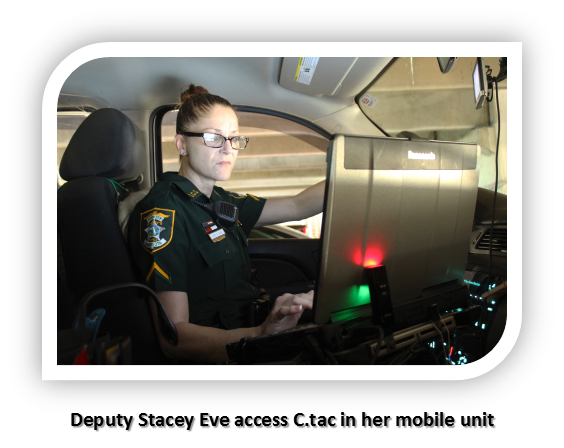 But, according to Colonel Hoffman, "getting information from WingS and other databases typically took two or three days - sometimes as much as a week - for the crime analyst to push it out to patrol." Yet, while this lag time was proving unacceptable given the speed and nature of crime in this digital age, replacing WingS was not an option. As Colonel Hoffman notes, "a whole new RMS and JMS can be very expensive and it's probably not realistic for us from a budget standpoint for the foreseeable future. After watching several other nearby jurisdictions try to change their RMS and have nothing but problems, we knew we had to find a different type of solution." Plus, that wouldn't have achieved the ultimate goal of cross-system access.
It was clear that SCSO needed to access the decades worth of information in WingS but do so without replacing the system, and with a faster, modern, flexible tool that could be used by all types of agency personnel anywhere. But their data accessibility problem didn't end there. There were several other existing county and statewide databases full of useful information (and potentially vital to cracking a case) that weren't efficiently available (and certainly not searchable together) including data from their Intergraph county CAD, traffic citations, and animal services systems. Field interview notes in the county's Intergraph CAD system, for example, contain valuable information, such as the nickname or physical characteristics of an assailant, gathered from victims and witnesses at the crime scene, but none of this narrative was searchable by detectives and deputies.
Similarly, the Chameleon system maintained by the county's Animal Services Section contains vital information such as the current address for someone involved in a pit bull attack who is later being sought for questioning in a burglary. But except for the SCSO's crime analysts, access to that system was limited, and a patrol deputy might have to leave his or her zone to get to a connected workstation - an investment in time that might prove fruitless. And no one at SCSO - even crime analysts - could access RMS databases of other local police departments in the county that might contain information on a suspect that's not in any of the systems at the county level. Beyond this, even if any user may have access to one or more of these systems at some level, there was still no way to effectively search all of them in 'one-shot' and see relationships across all of them as if they were one.
In addition to this general lack of consistent availability and access, searching across multiple sources required multiple sign-ons and redundant entry of search criteria. And, each individual data source has its own format for data entry and for display of results, which can be confusing for anyone. The end result of this cumbersome process was that following a lead found in one system meant jumping back and forth between systems - wasting time, frustrating users, and leaving the user wondering what piece of evidence might be out there that they don't even know existed.
Needless to say, their objective became clear. "We didn't want our patrol deputies to have to leave their zone to tap any of the available databases they needed so we knew we needed to integrate the separate silos of information," Colonel Hoffman says, "in a way that would provide users with a single, consolidated view of relevant information from across those systems in one, simple search, without altering the integrity of the source data."
COBRA.net: The Solution
With these challenges in mind, SCSO started to search for a technology that could make their goals a reality. When they learned of COBRA.net through a former colleague, they met with CODY at a Florida Sheriff's Association Conference and discovered that meeting these challenges is exactly what COBRA.net was built for and what the CODY team thrives on delivering.
Implemented first back in the late 1990's (way ahead of its time), and now powering consortiums of hundreds of agencies across the country, COBRA.net is built to do just what SCSO needed – allow data sources that don't reside in the same place, have the same vendor, and/or speak the same data 'language,' to share their data in real-time without changing (or even touching) the underlying systems. This means that no matter the database or format, no matter the location of the physical storage of the data (even if it's in the cloud), and no matter what vendor supplies the underlying system, COBRA.net's technology can aggregate and federate a search of all these data sources and return unified results back within seconds.

During the initial talks with CODY, Colonel Hoffman attests to this core ability of COBRA.net. "I brought in a list of maybe 20 different data sources that we were looking at eventually accessing. I threw the kitchen sink at them. We went down the list and there wasn't a single data source they couldn't tie to. Typically, with other vendors there's always a qualifier around whether their software will work, but that wasn't the case here."
Dave Heffner, Executive VP for CODY remembers the meeting well. "We were in the Colonel's conference room, and saw a white board with a list of different data sources written on there, with lines between them. Clearly, they had been thinking about their goals well before we arrived! We starting going through and discussing each source, and it was clear, even then, that something good was 'brewing' between us. The fact is that we've linked to data from the vast majority of the different legacy data-systems across the RMS, JMS, CAD and other criminal justice system landscape. Across that spectrum, we have seen just about everything - from modern SQL-based RMS systems and NIEM-based XML exchanges, to old AS/400 DB2 based systems, AIX-based CAD databases and Z-series Mainframes, unstructured data content, on-premises systems to remotely accessed and cloud-based systems. So while every system and project is like a 'snowflake,' with its own uniqueness and potential pit-falls, the kind of challenges SCSO were sharing with us were honestly nothing new. This is exactly what COBRA.net is for. Plus, we are not altering any source data or disrupting the operation of any legacy system, so we can meet the challenge efficiently, securely, and cost effectively. Plus, the system has been vetted at the highest possible CJIS security standards, so the environment is locked down and secure."
In live operation since the Fall of 2016, COBRA.net now actively monitors all the connected data sources and synchronizes changes in the data found in the various internal and external agency databases vital to the daily operations of SCSO and translates the data 'on the fly' into a homogenous format that can then be searched by C.tac, or by virtually any tool SCSO may want to employ now or in the future. These data sources include RMS, JMS, Animal Services, Traffic and citation system, the County's Intergraph CAD data and Florida's FINDER system for pawn and other multi-agency records data, with an integrated search of a neighboring jurisdictions' data, North Port Police Department, on the horizon as well.
C.tac Search App - Key Features at Play in Sarasota
While COBRA.net itself performs the data extraction, mapping, and translation, it is through the C.tac web-based search application that users are able to access the cross-source information. SCSO users – from deputies in the car or on mounted patrol to those on motorcycles, marine patrol (and even the SCSO's helicopter) – have access to C.tac on their mobile units and will soon have access to the data on their iPhones using the C.tac Mobility App for iPhone/Android (SCSO will roll-out the iOS app later this year).
Building Searches
Through C.tac, SCSO users can build and save customized searches to search any or all of the connected data sources (RMS, JMS, CAD, Animal Services, and/or Traffic/Citations, etc.). Results of these searches are presented in smart grids that allow the user to manipulate and review the data in myriad ways to find the piece of data they are looking for. Advanced drill-down allows an authorized user to see relationships between entities in any or all connected systems (based on their search parameters). Colonel Hoffman illustrates how this helps his patrol deputies. "Heroin overdoses are especially problematic for us. People are reluctant to give us information; maybe all we get is the nickname of the dealer. But if we search C.tac for that nickname across all our data sources, the search may find an animal services complaint against someone with that nickname. With that, we can then drill down into the Chameleon data through C.tac with one click, get an address and we're off to the races." Further, if that nickname appears linked to people in other connected systems, C.tac shows that to the user as well, expanding the investigative 'lead' potential.

Being able to actively search this wealth of cross-system data so quickly proves useful to corrections deputies at the county jail as well. "They use it to find names and addresses of next of kin for inmates," says the Colonel, "and they can even search phone numbers from monitored non-attorney inmate calls to find out whether an inmate is communicating with a prolific offender or other person of interest."
While other search products may require the user to pre-define all of the entities for a specific type of search (such as last name, middle name, first name for a person search) that that they think their users will need, C.tac users can select and deselect criteria on the fly and present matches based on any captured data element in the results. For example, a C.tac query result could be refined to present only person records matching the middle name as well as first and last name, and group them by address (even if that wasn't one of the search entities). This way, rather than burdening the user with a lengthy and confusing list of all possible matches based on any and all matched entities, only those results likely to be relevant appear on screen.
Natural Language keyword searches and phrase-matching
C.tac incorporates a natural language search of key words or phrases found anywhere within narrative or other unstructured content across the SCSO COBRA.net ecosystem. This even extends to the text in narrative data in the county's CAD system, which was especially important to Colonel Hoffman. "We weren't able to query this narrative information before. Key word and phrase match searching gives us valuable information like a name of a potential witness or associate we can't find anywhere else." COBRA.net's powerful indexing engine can also process unstructured content from all sources including CAD call notes, agency intel blogs or 'pass on logs' as well as other files, such as PDFs, Word documents, Excel spreadsheets and others, making it all searchable by C.tac's flexible natural language keyword and phrase match search functions.
Place Digital 'Tags' on Entities to Track them into the future
C.tac's 'Entity Subscription' functionality allows users to 'subscribe' to a person or any entity/record in the SCSO COBRA.net ecosystem to get automated alerts via email or text message whenever another user is looking at this tagged entity and when anything changes in the record (such as when a person or vehicle is involved in a new incident). Whenever any data changes on a subscribed entity, COBRA.net sends the subscriber an alert. For example, if a user subscribes to a person, and someone adds a new alias to that person's record in a different agency or system, the subscriber is notified. The Entity Subscription function is particularly important to SCSO detectives, according to Colonel Hoffman "We're a pretty large county, and detectives and patrol deputies may not know that someone else in the county is looking for a specific person or car, for example. Getting an alert in real time that a suspect has been stopped by someone else, or that someone has added/changed vital data on that suspect allows that detective to respond: 'Hold that guy. I need to interview him about a burglary."
Subscribe to Searches for automated future search-result 'hits'
The Search Subscription capability allows any user to configure, save and subscribe to a custom search across data sources. Once a search subscription is set, the search runs all the time, alerting the subscriber whenever new data/records are discovered that match the search criteria in any connected data source. An SCSO detective, for example, can set a search for an unknown person matching specific characteristics, and then get an immediate alert whenever a person matching those characteristics is found.
Connecting with the Right People and Product
Even after he first learned how the COBRA.net technology had been successfully applied to meet similar data sharing challenges in other jurisdictions, Colonel Hoffman admits to having had a "healthy dose of skepticism" about involving an outside company. "I've had some bad experiences with software deployments that I didn't want to repeat." The cause, he says, was a "lack of communication" at the executive level that allowed a small issue to become a large problem.
That skepticism first started to fall away when he and his team were invited to attend CODY's annual CONNECT Users' Conference. "We had a chance to interact with other agencies (using COBRA.net) and hear about their experiences firsthand," he recalls.
At CONNECT, he also had time to sit down with Laurie Crawford, who had been a CODY customer as the state project manager for the Missouri State-wide Data Exchange (MoDEx), a large COBRA.net implementation with more than 300 data sources across law enforcement agencies in Missouri. She was now with CODY as a Senior Project Manager and was SCSO's CODY Implementation Coordinator. "At CONNECT I spent a lot of time with Laurie," he says. "Knowing someone who has been at my level ... it's never a guarantee, but it did increase my comfort level. Plus, she brings a thorough technical understanding of COBRA.net. There were very few questions I asked where she had to turn to the CODY technical staff for answers."
Colonel Hoffman comments that CODY's Executive-level commitment to their project was evident right from the beginning and was part of the deciding factor to go with a solution from CODY. "Dave Heffner and I had agreed at the outset of the project that we needed to be able to pick up the phone right away whenever an issue came up, and that's what we do. I know I can call Dave on his cell or anyone at CODY whenever I need to. That kind of executive-level access is unheard of in this market."
"I was impressed with the CODY people. And after our technical people 'kicked the tires' some more in follow-on calls, we knew that the product would fit our needs."
Lessons Learned: Keys to a Successful Implementation and Roll-out
How the CODY team successfully met some of the project's implementation challenges reinforced the confidence the Colonel has in the CODY people and COBRA.net technology.
Data Complexity and Age
The first challenge the SCSO project presented was the complexity and age of the WingS system: it was over 30 years old and was not actually one database. It was actually a set of 13 individual databases that would each need to be mapped. And Colonel Hoffman insisted that even closed record data be included. "I did not want to leave any data in a silo somewhere where it wasn't getting hit. Some information on a person, like scars, marks and tattoos captured at jail booking years ago, doesn't change and may be useful at some point to a detective or patrol deputy on the street." The result was a data store of over 30 years of records. This was right in COBRA.net's wheelhouse as the system thrives when given more data to search. The more years of data that are available, the more robust the search, and the greater the potential exists to find that one small piece of data that can solve a crime or prevent a victim.
External Federated Search of a Federated Search
SCSO was also looking to incorporate a search of the FINDER federated search system which exists in Florida. Unlike the other sources for SCSO, FINDER required COBRA.net to use web services to connect, so that COBRA.net could issue the search through FINDER's system. So, to connect to this external search system, SCSO employed COBRA.net's web services interface to connect to the FINDER system and automatically sign the user into FINDER when the user signs into C.tac. CODY worked with SCSO and the FINDER team to enable this integrated access and successfully made FINDER a searchable 'data source' within SCSO's COBRA.net system. Colonel Hoffman says that the FINDER part of the project illustrates CODY's commitment to the project in another way. "The scope of the integration went beyond our initial contract discussion with respect to the data involved," says Colonel Hoffman. While CODY anticipated pulling only certain types of data from FINDER, the scope was ultimately expanded to include all relevant information on persons and vehicles from the system. "While the data available in FINDER is somewhat limited in scope, accessing it is important to us precisely because it pulls data from other agencies in Florida," Colonel Hoffman adds. "CODY could have made expanding the scope a bone of contention. Instead, Dave Heffner and Laurie Crawford addressed the concern head-on with us, and the outcome proved to be of great benefit to all involved."
Laurie Crawford remarks on these initial challenges. "Like we've done countless times before for other COBRA.net systems, we identify challenges, talk through the possible scenarios of how to meet it with our customer, and we jointly settle on a path that will give us all the best results."
Training Strategy
The successful rollout of the SCSO COBRA.net meant the CODY implementation team needed to quickly and thoroughly train more than 500 users across different job types and potentially different use of C.tac. "In order to get this done in the most efficient, fast, and cost-effective way, we worked with SCSO to define a training strategy that divided the training into two parts - initial on-site training followed by remote training," Laurie Crawford explains. 'We first did on-site training of the department's power users - the people most likely to rely on C.tac to do their jobs. That got them comfortable and supportive of the system and gave them the ability to guide and assist other new users. It also gave us more insight into how the data was actually going to be used by different groups. That, in turn, helped make the remote training we did for the rest of the field staff more consistent and relevant."
Laurie credits SCOS's IT leadership and the "incredible IT project team" at SCSO, including IT Manager Stephen Venesky, for standing up the remote training site and scheduling users in a way that minimized the impact on daily operations. "A lot of coordination was needed to make this a success." It also helped, she maintains, that the remote training was conducted by a detective who is an actual C.tac user in another jurisdiction. "Knowing that the trainer speaking to them is not only a colleague in the field, but is also someone who's doing the same job as they are really promotes understanding and connection with people."
Laurie also credits SCSO Patrol Bureau Captain Charlie Thorpe as being an instrumental part of the project team from the outset, by clearly laying out how important the training was and how it related to the success of the I2A initiative. "That put it in perspective for the users why we're doing this project."
The dedication to this project from the top down was key to the overall success and Laurie saw firsthand how important the I2A initiative is to the Sheriff and his team. "The ability to work more efficiently and drive what they do based on hard data rather than subjective impressions so they get the best possible results guides everything they do."
Future Growth and Expansion: Cross-Jurisdictional Sharing on the Horizon
With the initial data sources on-line and being queried, the next step in the process is to start sharing data with other agencies in the county, like North Port PD. "Bringing new agencies onboard is the next step in our I2A process," says Colonel Hoffman. "When our users start to access other agency's data in that same one search, that's when we will truly realize the full power of the COBRA.net technology."
Laurie describes how this will make COBRA.net even more mission-critical and valuable to its users. "Reaching out and sharing information with other jurisdictions is so important for officer safety," she explains with an example. "A patrol deputy could make a traffic stop and check the driver in COBRA.net and find nothing on that person in SCSO's systems, but North Port may have an embedded warning that that person had previously assaulted an officer. When you stop an individual you want to have that cross-jurisdictional information for your own protection, as well as preventing and solving crimes."
And similar discussions are under way with the Sarasota Police Department, the largest municipal force in the county, as well. Colonel Hoffman also envisions expansion beyond Sarasota County. Access to FDLE's agent reporting system, for example, might give one of his detectives a heads-up and access to information compiled by an FDLE agent in another county working a case involving the same suspect. And he is talking about expanding the footprint of COBRA.net with his colleagues in nearby counties. With COBRA.net supporting their I2A initiative, he says, "I really believe we can become the epicenter of data sharing in the state of Florida and beyond."
To learn more about this project, please feel free to contact us!