C.tac Universal Search App
Search all of your data resources with one search and single sign-on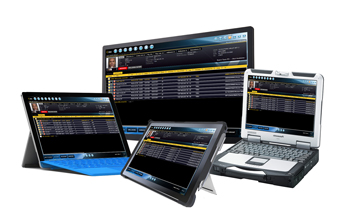 C.tac is COBRA.net's native web-based unified search app. Powering ONE single search across all data sources with single sign-on capabilities, C.tac provides quick, flexible and powerful access to all of an agency's (or multiple agencies') data sources, all in one integrated, browser-based interface.
Designed for multi-input operation (keyboard, mouse, touch), C.tac is at home on the desktop, a laptop or on a mobile device. C.tac is de-coupled from the COBRA.net Core and accesses the data in the Core in exactly the same way as other BYOT tools, allowing C.tac to working seamlessly alongside other third-party analysis and reporting tools.
One-Stop Search across ALL of your data sources
From one quick, efficient interface, configure and run searches from simple queries to complex in-depth analysis searches across any and all of your data available from data sources managed by COBRA.net. Select the sources you want to search, enter your search criteria ONCE, and that's it. C.tac and COBRA.net do the rest. With ONE simple search, C.tac automatically searches all of your sources (both internal and external) at once and returns results in one consistent, easy to navigate view.
Avoid "drinking from the fire hose" (i.e. data overload)
C.tac has been tempered over nearly 20 years of continuous user-driven innovation and refinement to provide instant access to an agency or agencies' wealth of different data sources, without users suffering from data overload. With this as one of CODY's core design tenets, users can refine their search, including selecting which sources to include in each search (instead of being forced to search EVERYTHING all the time), including or excluding search elements on the fly, and filtering results to get to the best "solution set" for their needs.
Single Sign-on
With C.tac's native single sign-on capabilities, it handles the different credentials for your data sources behind the scenes. Log-in to C.tac and C.tac can automatically pass credentials to the appropriate system transparently.
Highly Configurable User Interface
C.tac is highly flexible, based on a fluid data model that is configurable to meet the mission of any agency. Users can also tailor the interface to match their use-style throughout C.tac with various options to save configurations.
Intuitive Flexible Search Builders
C.tac allows users to search the way they wish. They can use configurable drop-downs, wildcards, and plain language parameters or a combination of all methods. COBRA.net will translate it all into the appropriate search terms on-the-fly, across all sources. Users can save unlimited searches in C.tac from the most simple traffic stop search on a mobile device, to a highly sophisticated crime analysis search across multiple data types and data elements, even 'subscribing' to searches to get automatically notified of future search hits.
All your data sources, in one search, regardless of format/type (structured and unstructured)
C.tac leverages the COBRA.net Core ecosystem to provide instant homogeneous search access to all of your data sources, regardless of type, format, engine or connection method. Within one COBRA.net network, C.tac can access and search across SQL databases, noSQL content, Web Services, XML files (NIEM or non-standard), other file formats (.CSV, etc.), converted PDFs, Word documents, Excel files, multimedia metadata and more, aggregating them in real-time and providing one organized,consistent and easy to interpret result set.
Narrative/Unstructured Keyword & Phrase Match
C.tac's real-time indexing engine provides powerful and incredibly fast results across structured (database) content as well as unstructured content with one search. With one search of a keyword, phrase or other collection of words, C.tac harmonizes and can search across all types of data sources including: databases, XML file streams, PDFs, Word Documents, Excel Spreadsheets, and more, returning well organized and 'digestible' results in seconds from across all data sources.
Browser-based
The entire C.tac interface is browser-based and designed to work on mobile tablets, laptops, desktop workstations, etc.
Total Encryption/CJIS Policy Support
All data accessed through C.tac is safely encrypted at Federal Government FIPS 140-2 levels, meeting FBI CJIS requirements for data in transit in mobile environments. C.tac is also designed - and has been vetted - to meet applicable CJIS Policy Requirements including password requirements, use disclaimers, 'purpose codes', auditing, etc.
Drill-down and Subscribe to Track People, Vehicles, Weapons, and Other Entities
More than just providing stripped down thumbnails or index cards on people, vehicles, organizations, etc., C.tac provides authorized users with a second level of 'drill-down' on any person, vehicle, organization or other entity's records, allowing users to see all relationships between that record and any/all other data across your COBRA.net network. Also, if you need to keep track of a person or other entity, C.tac allows you to 'subscribe' to the entity and recieve text/email alerts when that entity is accessed or updated in any way.